By Oceania Admin Account on 09/03/15 at 2:31 am
9 March 2015.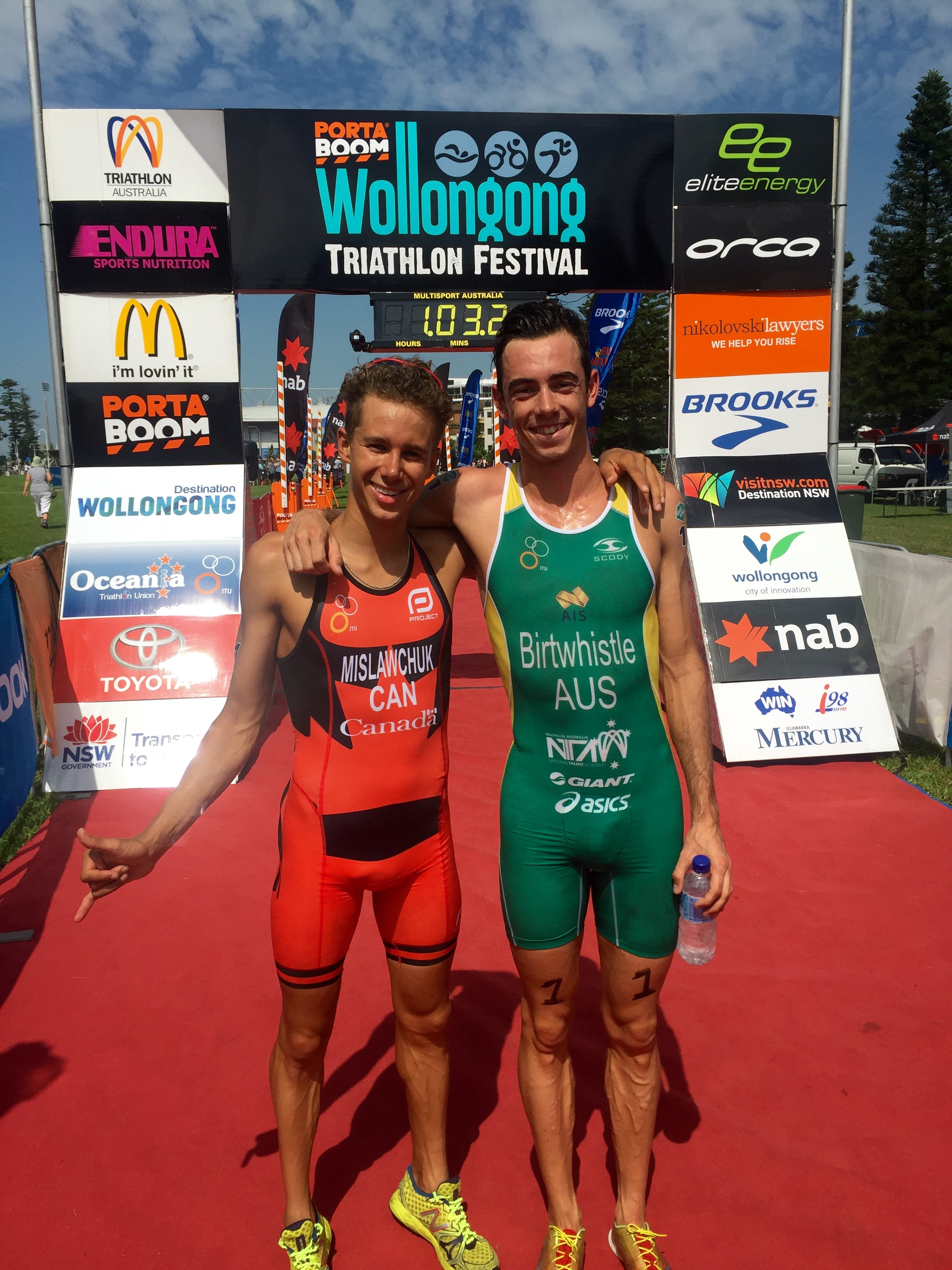 Jake Birtwhistle completed a clean sweep of Triathlon Australia's major National Championships at the 2015 Wollongong OTU Sprint Triathlon Oceania Cup yesterday.
Birtwhistle, who won the Standard Distance National and Oceania championships in his return home to nearby Devonport a fortnight ago was untroubled to add the Sprint crowns to his trophy cabinet in his adopted home city in Wollongong today.
The former distance track and Cross country champion had no trouble jumping onto the lead group on the bike as the field rode 20km around the Wollongong foreshores before heading home on the five kilometre run to the finish.
The ITU World Junior silver medallist from 2014 sped out of transition from bike to run and despite the efforts of close friend and rival Tyler Mislawchuk from Canada, Birtwhistle was never headed.
In the end he sealed victory in 54 minutes 44 seconds from Germany's Christopher Hettich (55:21) with Mislawchuk (55.29) third in the Oceania Cup with Birtwhistle taking the two National crowns – the Elite from Queensland pair Drew Box (55:45) and Gold Coaster Daniel Coleman (55:54) and the Under 23 from Box and Victorian Joel Tobin White (55.56).
And Birtwhistle, who will make his World Triathlon Series debut in Auckland later this month said his adaptability was a telling factor in today's race. "I actually swam pretty well which allowed me to get on to the first group on the bike and that just shows that all the training is working," said Birtwhistle. "It was a little rough and I know you have to make sure you stay out of trouble and that has definitely been a focus. It is important to get the swim right and to feel comfortable and we've actually done a few extra open water sessions recently which may well have helped and it set me up for the rest of the race."
As hard as he and a group of the other riders tried they couldn't quite get organized enough to stage a break away on the bike and he knew he had to waste no time getting through the bike to run transition for his strongest leg.
"I felt good getting off the bike and headed out in front and was able to hang on although I knew at one stage Tyler was trying to close the gap. We also had to contend with some grassy areas as well and I guess my Cross Country background helped me there. But to wrap the Elite and Under 23 double again is very exciting and a nice box to tick."
Other notable performances came from National Triathlon Academy Juniors Christian Wilson (12th) in 56.08 and Devonport National Junior Championship dead-heaters Luke Willian and Matt Roberts who were 19th and 20th –in another tight one - just one second apart.

Meanwhile, the women's Oceania Cup race saw Wollongong-based Canadians Amelie Kretz (1:00.37) and Sarah-Anne Brault (1:01.34) give the Canucks a 1-2 finish ahead of Hungary's Margit Vanek (1:02.00) with another local girl, Natalie Van Coevorden the first Australian home, winning the Elite and Under 23 National Championship double.
It is Van Coevorden's first Elite National title and after an injury plagued last 18 months will give her confidence a huge boost.
Emma Jeffcoat was second in both the Elite and Under 23s while Danielle de Francesco from the Gold Coast wrapped up the bronze medals.
Triathlon Results….
2015 Wollongong OTU Sprint Triathlon Oceania Cup (750m; 20km; 5km)
Elite Men
1 Jake Birtwhistle (AUS) 54:58 2 Christopher Hettich (GER) 55:21 3 Tyler Mislawchuk (CAN) 55:29 4 Matt Sharpe (CAN) 55:37 5 Uxio Abuin Ares (ESP) 55:44 6 Drew Box (AUS) 55:45 7 Aleksandr Latin (EST) 55:48 8 Daniel Coleman (AUS) 55:54 9 Joel Tobin White (AUS) 55:56 Aliaksandr Vasilevich (BLR) 56:03.
Elite Women
1 Amelie Kretz (CAN) 1:00.37 2 Sarah-Anne Brault (CAN) 1:01.34 3 Margit Vanek (HUN) 1:02.00 4 Natalie Van Coevorden (AUS) 1:02.22 5 Emma Jeffcoat (AUS) 1:02.50 6 Danielle de Francesco (AUS) 1:03.00 7 Brittany Dutton (AUS) 1:03.43 8 Elise Salt (NZL) 1:03.00 9 Deborah Lynch (NZL) 1:03.45 10 Julia Hauser (AUT) 1:03.54
2015 Australian Elite Sprint Championships, Wollongong (750m; 20km; 5km)
Elite MEN 1 Jake Birtwhistle (TAS) 54:58 2 Drew Box (QLD) 55:45 3 Daniel Coleman (QLD) 55:54
Elite WOMEN 1 Natalie Van Coevorden (NSW) 1:02.22 5 2 Emma Jeffcoat (NSW) 1:02.50 6 3 Danielle de Francesco (QLD)
Under 23 MEN 1 Jake Birtwhistle (TAS) 54:58 2 Daniel Coleman (QLD) 55:54 3 Joel Tobin White (VIC) 55:56
Under 23 WOMEN 1 Natalie Van Coevorden (NSW) 1:02.22 5 2 Emma Jeffcoat (NSW) 1:02.50 6 3 Danielle de Francesco (QLD)
Find more details about this event - 2015 Wollongong OTU Sprint Triathlon Oceania Cup