By Oceania Admin Account on 06/03/16 at 9:50 pm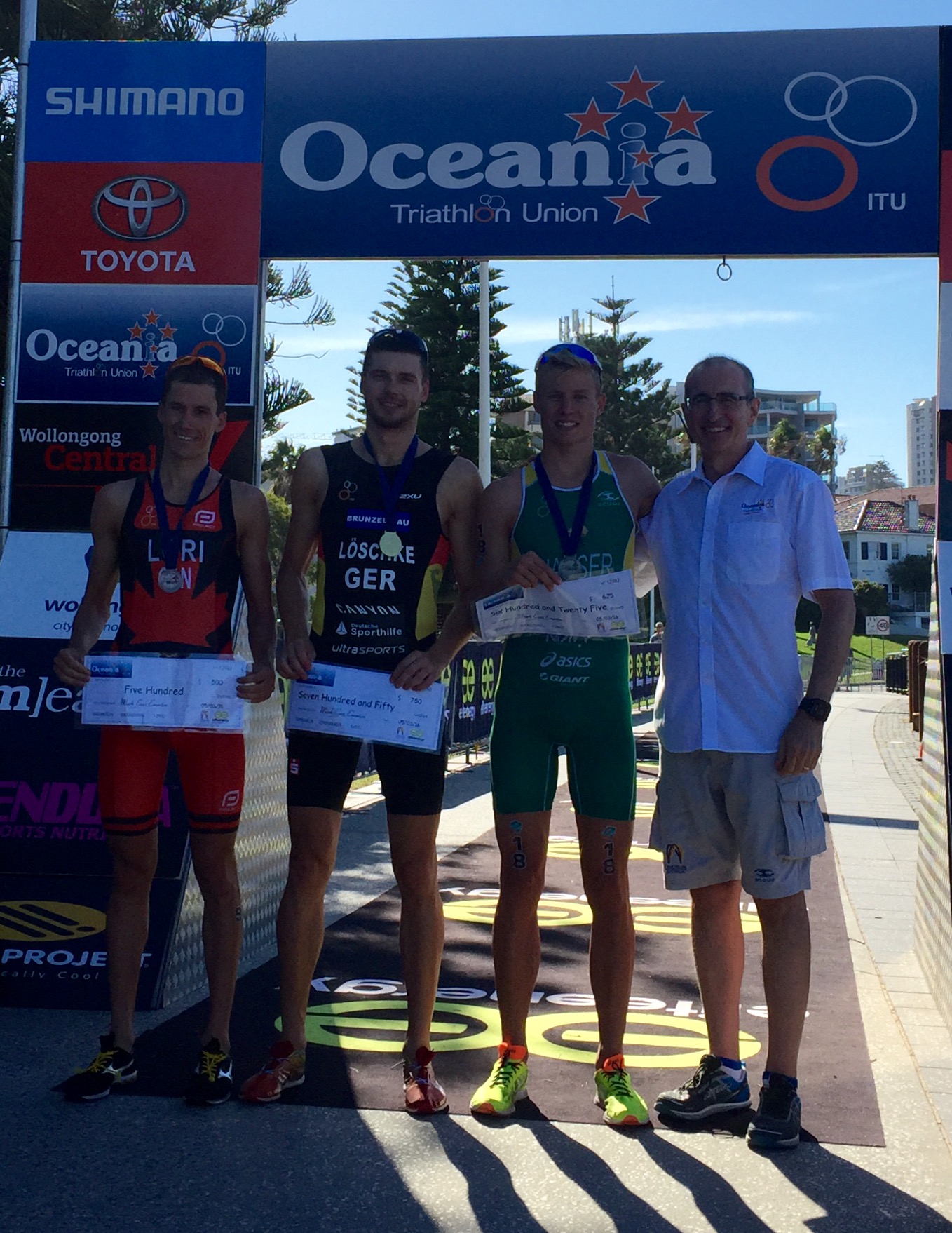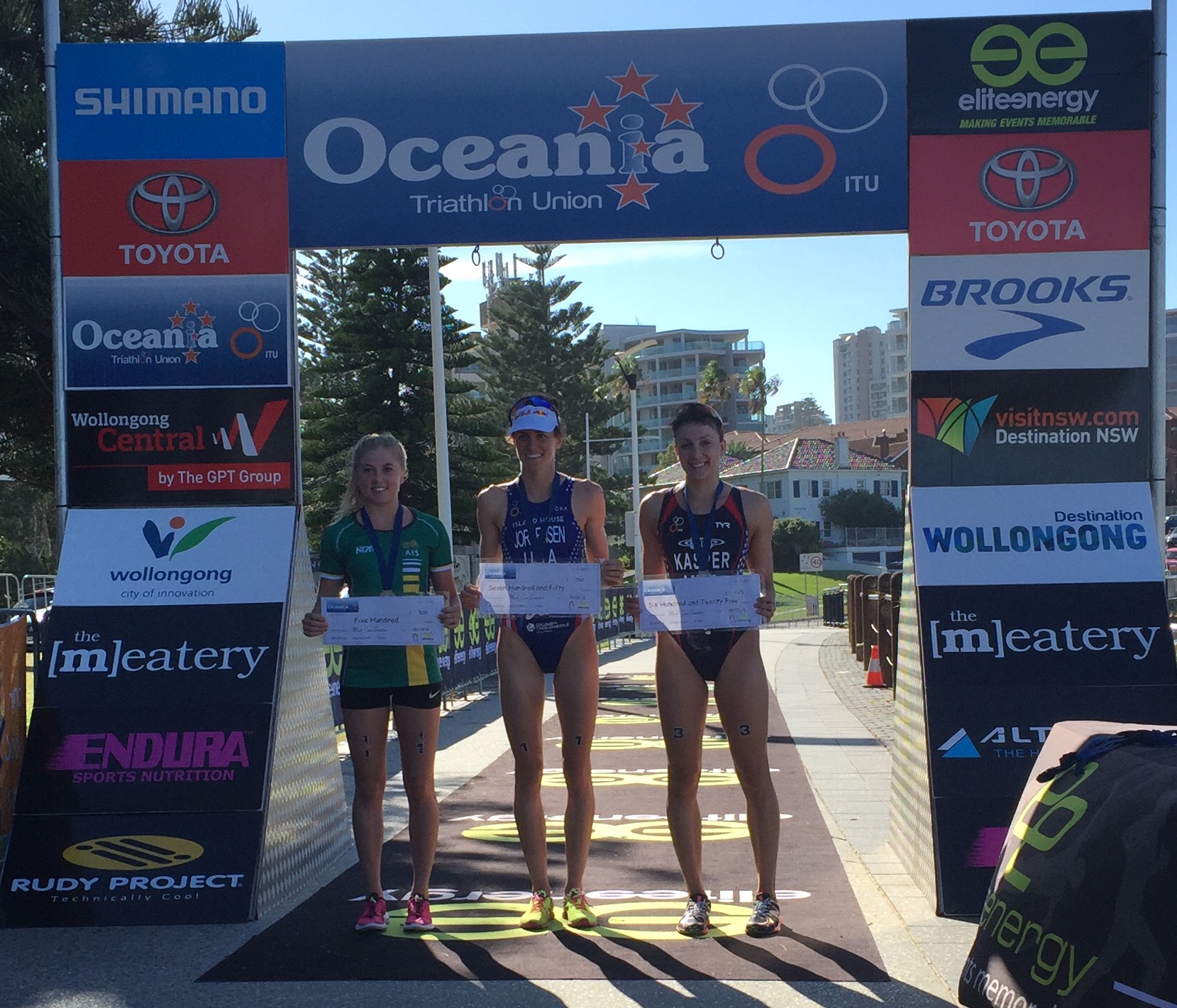 Images by Delly Carr
The spoils may have gone to US world champion Gwen Jorgensen and Germany's rising star Franz Loeschke but it was an encouraging day for Australia at the 2016 OTU Oceania Triathlon Cup in Wollongong today. Both Jorgensen and Loeschke ran away with their victories over the sprint distance - 750m swim, 20km bike and 5km run in and around the picturesque Harbour foreshores. Jorgensen proving too strong and too fast for US team mate Kirsten Kasper and Australian pair Jaz Hedgeland and Emma Jeffcoat.
While it was a similar story in the men's race with Loeschke sprinting away to beat outstanding Australian junior Matt Hauser with Canadian Michael Lori t hird, another young Australian Brandon Copeland fourth, and the man already nominated for the Rio Olympics, Aaron Royle fifth. Royle wasted no time taking control of the race, leading Canada's Alexis LePage and fellow Aussie young gun Matt Roberts out of the swim. The Newcastle-born Wollongong-based Royle then tried to steal a break on the field on the bike - leading for almost the entire 20km winding course. But the 22-strong chase pack caught him coming into transition and Royle, having his first hit out of the Olympic year, didn't have the legs to match it with the youngsters.
But for Hauser, who is leading the Australian Junior Series, it was a chance to step up and race the big boys. "I was really excited, it's not every day you get to race future Olympians like Aaron Royle. I was a bit optimistic of how I'd go, but was really motivated coming out of the NTA camp which really boosted my confidence, being able to training with the 'Wizards', and learning from people like Gwen and Aaron was just amazing for us. Kudos to Triathlon Australia coaching staff, Craig Redmond, Josh White, Taryn Richards, Olivia Thorton and Dan Atkins for organizing the camp. To learn off those guys was invaluable and I think it helped in the race. I'm happy with second, at the same time I'm a bit disappointed I mentally gave up when the German got away at the start. Things like that I need to work on. There's time to learn that stuff coming into Cozumel."
In the women's race it was Jorgensen who charged away in the kind of fashion the rest of the world has gotten used to over the past two years. The dominant force in women's triathlon was as dominant as ever in her first major hit out of the Olympic year. It will be a brave suggestion from the even the wisest experts to tip against Jorgensen, 38th in the London Olympics but the woman who has earned Rio favouritism with her consistency in big races.
She charged around her adopted home town, to take the US 1-2 finish from Kasper and next generation Aussies Hedgeland and Jeffcoat producing encouraging runs for third and fourth respectively. Jorgensen, enjoying the fruits of her fourth summer under noted International coach Jamie Turner, will now head to New Zealand for a training camp. She is undecided whether she will race in New Plymouth but will make her WTS season debut on the Gold Coast on April 9.
"It was great to start in a race on a course just five minutes from where I live and on my training grounds," said Jorgensen. "I'm blessed to have a great coach in Jamie and a squad of great athletes that l learn a lot from. They really push me every single day to be a better athlete and I'm fortunate to train with them."
It was Hedgeland's first major race in eight months after a long suffering Achilles injury. "I just wanted to have a solid swim, and give it everything I had on the run to see where my run fitness was at," said Hedgeland.
Jeffcoat, the girl from the Sydney Northern Beaches, was delighted with her finish. "We have had a great week training with the National Talent Academy and with the likes of Gwen Jorgensen and that really helped a lot," said Jeffcoat, the former champion Dee Why lifesaver. "You can take so much out of that training and a race like that – I now have two World Cup starts - the first in Mooloolaba next week so I can't wait."

Results
Men
1. Franz Loeschke (GER) 51:00
2. Matthew Hauser (AUS) 51:08
3. Michael Lore (CAN) 51:20
4. Brandon Copeland (AUS) 51:27
5. Aaron Royle (AUS) 51:38

Women
1. Gwen Jorgensen (USA) 55:21
2. Kirsten Kasper (USA) 56:26
3. Jaz Hedgeland (AUS) 56:31
4. Emma Jeffcoat (AUS) 56:37
5. Mariko Adachi (JAP) 56:44
Find more details about this event - 2016 Wollongong OTU Sprint Triathlon Oceania Cup